Michalenglo Hand Prosthesis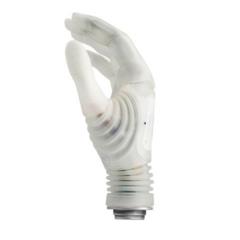 Michelangelo Hand
The Michelangelo hand offers four movable fingers and a thumb that can be separately positioned using muscle signals. This results in the ability to perform various gripping movements with an ease and confidence never before seen in prosthetics.
It is the first prosthesis to feature an electronically actuated  HYPERLINK "https://en.wikipedia.org/wiki/Thumb" \o "Thumb" thumb which mimics natural human hand movements
Michelangelo glove is the latest glove it is a Silicone glove. The Axon Silicone glove offers a more natural look and feel and is available in colors 2, 4, 6, 8 and 10.